Don't put that cord around your neck.
Don't go outside without shoes on.
Don't pee in your panties.
Don't hit your sister.
All of these statements plus many more I have said in the last week.
And all of them were met with the response of "why?"
It's obvious to any adult why I said these statements.
Wrapping a cord around your neck is dangerous as is going outside without shoes. Peeing in your pants is just wrong and hitting is never nice.
But to a 2 year old I guess the why isn't as clear.
I want her to question everything around her.
To learn more about the world she lives in and to not have blind faith in the wisdom of those around her.
But some days with some statements, the why's just drive me crazy.
As I respond with a logical explanation she counters with another why. Of course this evenutally leads to my final response of "because I said so."
Which isn't the answer I want her to remember, but it's the only one I can give so that she stops asking why.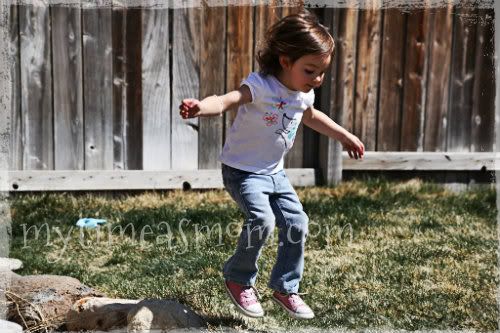 Today over at One Martini, we partnered up with Eve from Mama's Hungry to create a food/cocktail pairing with our Taste of Tropics Margaritas. Be sure to check that out.
The following two tabs change content below.
Latest posts by Jessica Torres (see all)