I hope everyone had a wonderful Mother's Day.
Hayley made this present for me at school.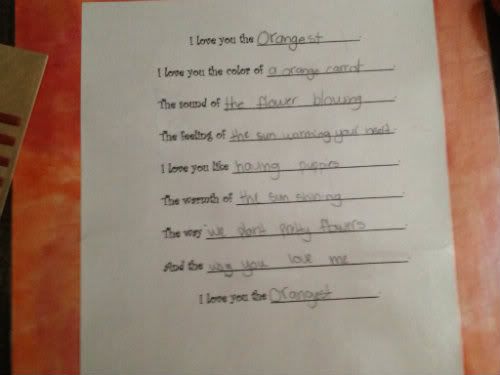 In case you can't read it, it says (bold are her words)…
I love you the Orangest
I love you the color of a orange carrot
The sound of the flower blowing
The feeling of the sun warming your heart
I love you like having puppies
The warmth of the sun shining
The way we plant pretty flowers
And the way you love me 
I love you the Orangest. 
I'm thinking she might have a future in card writing. Do you think Hallmark will work an 8 year old?
Also, I got an email last week from The Fairy Hobmother who is giving me $75 to Amazon (hello drink supplies, I mean homeschooling books).
It always surprises me when people do nice things for strangers. According to the Fairy Hobmother, if you leave a comment on this post you might get a surprise email too. Isn't that nice?
To help everyone recover from Mother's Day we've got a Raspberry Lemon Drop Martini recipe over at One Martini with fresh raspberries and fresh lemon juice.
And…if you want to smile check out my post from last week with Siri's words of wisdom and Layla's foul language.
Latest posts by Jessica Torres (see all)