After posting the star and safari quilt pictures, I've been busy at work on my sewing machine trying to deplete my stash of material.
Here are a few of my recent creations…
Quilt 1: Pretty In Pink
I made three of these pink/red/white heart quilts.
My aunt had started one of these quilts before she passed away so I just followed in her footsteps to finish these quilts.
One went to Layla, one I sent to my friend Kate from Mommy's Monologues for her baby girl that is due this month (Kate even came out of blog hiding to post about her quilt), and I gave one to my local friend Roxanne (Unintentionally Brilliant) for her niece.
Quilt 2: Monster Sasa
While going through my material one day I came across some monster fabric and I knew right away who I was going to use it for.
A monster quilt can only go to a monster.
This monster quilt is probably one of my favorites and it is used every night by Blake who is the wild child of my One Martini partner in crime Carri (Mommy's Little Monster Blake).
Quilt 3: I Spy
Quilt 3 is called an I Spy quilt and my Aunt loved making these for kids. Each piece of material is different and kids have fun identifying all the different things in each block.
This one is going to my mom's housekeeper who is expecting a baby in the next couple months. My mom didn't know if the baby was going to be a boy or girl so I made it gender neutral with yellow borders and the backing is orange with moons and stars.
Quilt 4: Crazy Stars
After sitting in a tub with other unfinished projects for over 5 years I figured it was time to finish this crazy star quilt. It's a little bigger than a twin sized bed and I love all the colors on it even if none of them match the rooms in my house. I decided this quilt is one I'm keeping for myself.
Instead of machine quilting the top, I hand quilted stars all over it. It took many evenings to do all the stars but I'm happy with the finished project.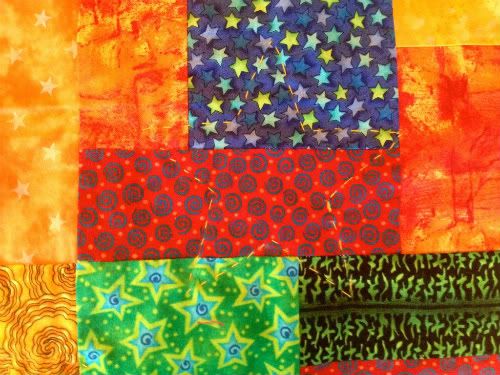 I have 5 or 6 other quilts that are in progress right now and 1,346,443 other ones to start so I'm sure you will see some more of these posts from me in the future.
Now, I need to get back to my sewing machine.
(These pictures really don't do the quilts justice. I need find a better way to photograph them. Any ideas?)
Over at One Martini we are featuring a Blueberry Pomegranate Paradise cocktail. It's perfect to drink while pretending you are on vacation.
The following two tabs change content below.
Latest posts by Jessica Torres (see all)