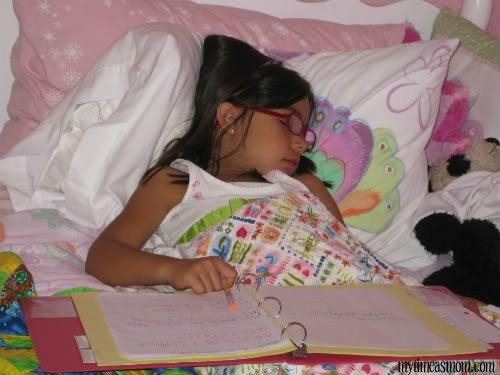 This picture is from a few years ago but I still find her sleeping with a book or something on her lap. 
Hayley is in second grade this year.
She is very smart, has good grades, and often helps her classmates with their work.
But we feel that she is not being pushed to her full capacity in the classroom.
She says her work at school is easy.
Her teacher assigned homework each week is 3-4 worksheets that she finishes in less than 20 minutes.
I usually add on some additional work for her to do after school in reading, writing, science and/or math.
We tried to get her in the gifted and talented (GT) program at school but it's a long process and after talking to the school principal we found out that the program is somewhat of a joke.
1-2 hours a week with a teacher (that was extremely rude to me) in a group setting. I have serious doubts about the GT program being effective.
John and I have been talking about making some type of change for the last year.
We want her to be pushed.
To be successful in life.
To have access to the path in life that we did not take.
So we have decided that for the next school year she will not be in public school.
We will homeschool her.
The decision has not been made yet whether it will be through an online school or if it will be traditional homeschooling.
Either way, she will be in an individualized setting where we can help her grow.
Teach her real life skills and about the world beyond textbooks.
It will be a struggle for all of us, especially in the beginning, as we adjust to our new life.
We hope it will be worth it.
We only want the best for our children.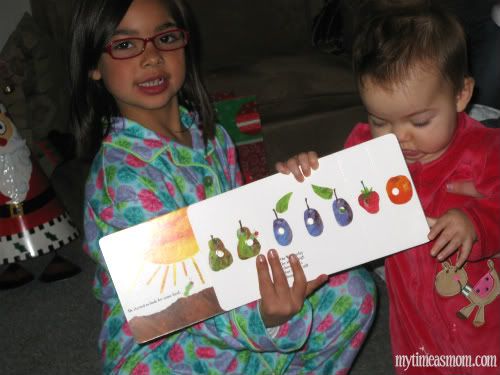 They have always loved reading The Very Hungry Caterpillar. 
We also only want the best in our martinis which is why we have an Orange Creamsicle Martini posted over at One Martini. 
Latest posts by Jessica Torres (see all)