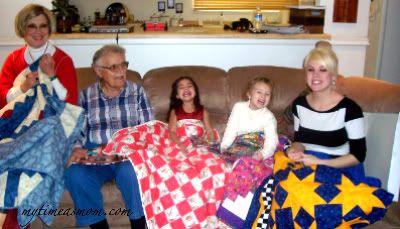 When I was a teenager I spent countless hours with my Aunt learning how to quilt. She taught me how to measure, cut, and sew pieces of material together to make a beautiful piece of art that doubled as a blanket.
My Aunt was diagnosed with cancer at some point in her life. I can't remember how many years ago it was but I do remember that she resolved to beat it. She fought and battled for many years to overcome the disease. In the end, she lost the fight and passed away a little over 5 years ago. To this day my Aunt is the closest person I have lost in my life and I miss her greatly.
When it came time to clean out her house I was asked by my cousins if I wanted her quilting supplies. I immediately said yes and soon my garage was filled with tubs upon tubs of material, batting, books, and other accessories.
Today, half of the tubs reside in my garage while the other half takes up space in my office and my downstairs front room. Every time I look at them, I think of my Aunt and I smile, remembering the times I spent with her over the sewing machines.
I don't quilt as often as I should. It will probably take me my entire lifetime to go through the massive amounts of fabric I now own. But that's okay.
Because when I quilt, I do it in memory of my aunt. She believed every baby born into this world needed a blanket. Every person should have at least one quilt that they could use to cuddle up with on the couch. She was determined to make this happen.
I am determined to make this happen.
I quilt in memory of my Aunt.
The picture above was the first Christmas after my Aunt passed away. I finished up several quilts she  had started and gave them to family. Shown from left to right holding their quilts are my grandma (my Aunt's mom), grandpa, my oldest daughter, my niece, and my sister. 
The following two tabs change content below.
Latest posts by Jessica Torres (see all)