This is the last summer post from Miss Fancy Pants as she starts second grade on August 29th.
To celebrate the end of her 3 month break she wrote a list of 10 things she liked about her summer.
Hopefully this post will help her remember that she did in fact have a no bummer summer.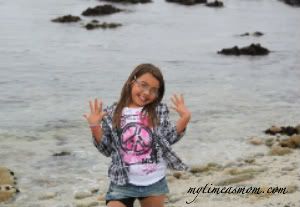 10 things I liked about summer vacation (or as she typed it: voacaice):
1) Horseback riding with my Father
2) Making a tutu
3) Playing in the grass
4) Doing the posts on my Mother's blog
5) Going to Sacramento to see my family
6) Swimming
7) My dare chart for a no bummer summer (I ended with 70 points and I won)
8 ) Saving up my money to buy a fish
9) Making a sculpture out of sand
10) Going to the beach and the aquarium in Monterey
Thank you everybody for reading my blog posts this summer and leaving me comments. I hope my Mother will let me post again sometime.
XOXO Miss Fancy Pants (or Miss Vampire Ninja)
It seems like I did something right this summer with my kid since she was able to come up with 10 things she enjoyed doing.
Leave her some comment love to celebrate the end of summer with Miss Fancy Pants and she will help me reply to them as usual.
The following two tabs change content below.
Latest posts by Jessica Torres (see all)