Today's Ms Fancy Pants is giving a list of reasons why she loves her Grandma so much.  She wrote this list while spending the last 4 days with grandma while I was at BlogHer and surprisingly Grandma survived. Thank you mom, your award is in the mail.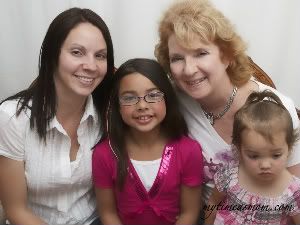 Things I like about Grandma:
1.) She buys me things
2.) She lets me sleep at her house
3.) She lets me stay at her house (apparently this is different from reason #2)
4.) She lets me bring home toys that I like from her house.
5.) She lets me watch TV
6.) She has cute little dogs
7.) She takes me to fun places like my Auntie's house
8.) She has fizzy water (sparking water)
9.) She knits me things
10.) She makes me pancakes
As you can see, grandma is a special person in our house.
As always, leave Ms Fancy Pants (Vampire Ninja) a comment and she will reply back to them with me. 
Thank you! 
Latest posts by Jessica Torres (see all)